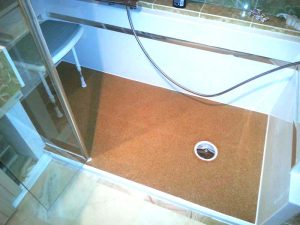 Everyone knows that the majority of accidents happen in the home. And it's no surprise that the most dangerous area of the house is the bathroom, particularly the tub or shower. Surfaces here can be slippery when wet, and we're typically relaxed and off our guard. Ask any primary care physician or ER doctor, and they'll tell you that if they could, they would provide a safer shower/tub for all of their patients, especially those getting on in years.
SeaCork is ideal for this application. Soft and secure underfoot, especially when wet, SeaCork provides an unrivaled and elegant solution. No sticky tape, no gritty rubber paint, no peeling non-skid decals. Just comfortable, beautiful, natural cork. And it's perfectly suited to being wet most of the time.
Cork Shower/Tub Kits: Coming Soon!
SeaCork is an excellent choice for your shower or tub, particularly if:
You put a premium on a safe, non-slip surface
You have a tub you actually fill and use for baths – cork is soft and comfortable!
You want something that looks natural
You want a product that is sustainable, environmentally responsible
You are looking for minimal maintenance